SOLD - Black Walnut Live Edge Coffee Table - P10460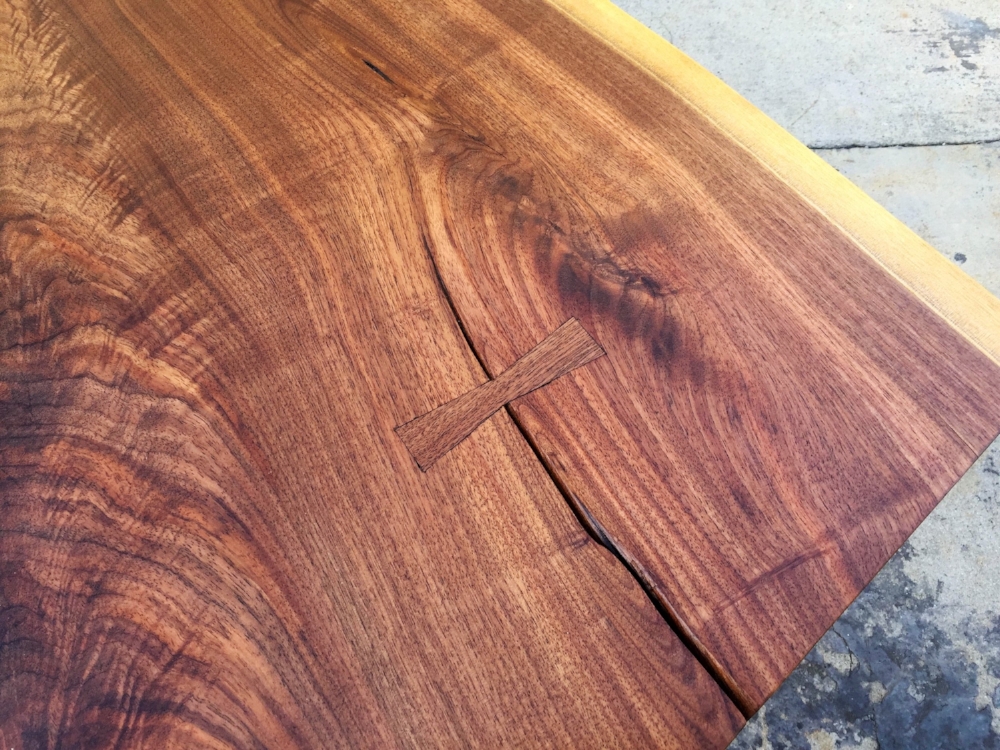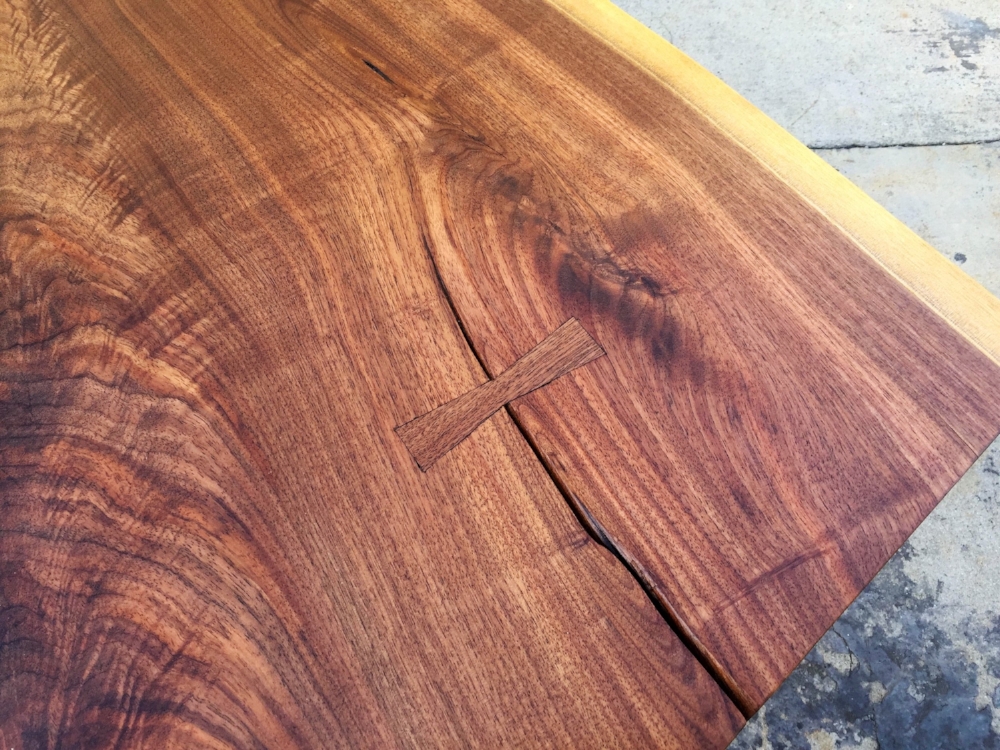 sold out
SOLD - Black Walnut Live Edge Coffee Table - P10460
NOTE: We're sorry, this item is SOLD OUT - please do not add to your cart. If you are interested in a similar item please contact us and we would be more than happy to assist you.
Simplicity never looked more beautiful! This thick live edge, Black Walnut coffee table has a clean, near-linear appearance that will appease even the most discriminating minimalist, yet also has all the hallmarks of a unique slab table with amazing grain, feathering and rich coloring. The hairpin legs adds a mid century modern look while the bright orange enamel adds a pop of color that complements the appearance of the slab top, fitting perfectly in an ultra modern environment as well as a chic and playful space. The size of this table makes it ideal for small spaces and studios, but also fits perfectly for most large sectionals that have a certain amount of negative space to work with. One Walnut bow ties adds a decorative as well as a functional element for the amazing table.

Style: Coffee Table
Dimensions: 34"L x 24"W x 16"H
Wood: Black Walnut
Legs: 4 Mid Century style hairpin legs, bright orange enamel
Item: P10460
Made in Pasadena / Los Angeles
*What you see in the picture is the actual item

Finishing: Every single one of our live edge and other wood furnishings goes through a labor-intensive, one to two weeks finishing and curing process. We only use all-natural, 100% Tung oil on all our products and apply five to seven coats with sanding and a one to two days curing in-between each coat. Afterwards, we do a high-grit finish sanding then apply a minimum of four coats of polyurethane to protect the wood and the finish. Some people will say our finishing process is too much work. I say it's the only way to do it right.

Every item we make is unique in their own way, from size to patterns to figuring and character. No two products we make are ever the same.
The imperfections of live edge wood are part of what makes them unique and beautiful. These can include checks, small cracks and splits, off-coloration from one part of the wood to another, voids (and other natural holes), slight surface unevenness, and planer and/or sanding marks among others. Please remember that these imperfections are either inherent in all live-edge furnishings or a result of the milling, cutting or finishing process and we urge you to look closely at all photos before purchasing.

*IMPORTANT: PLEASE READ OUR POLICIES before making any purchase. ALL SALES ARE FINAL. In addition to Etsy we sell our items through other means, so if an item is sold we will do our best to pull the listing, or mark it 'sold', as soon as possible.

Please note that the price does not include shipping. For rates please click on the shipping tab above. Unless otherwise stated, ALL ITEMS WILL BE SHIPPED FLAT-PACKED, where the items will be disassembled. For tables, we pre-drill mounting holes for you to attach the legs. We will supply the screws or bolts used to mount the legs. In almost all cases a drill or screwdriver is all you need (for legs that use bolts you will need a Socket wrench/ratchet or wrench/pliers). Assembled furniture can be shipped but could be very cost-prohibitive. Please feel free to contact us for assembled shipping rate.

*California customers: 9% sales tax will be applied to all orders.
**In many cases, I offer FREE DELIVERY within 20 miles of Pasadena & downtown Los Angeles.

PASADENAVILLE
handcrafted | sustainable | beautiful
310.896.8124
www.pasadenaville.com
facebook.com/pasadenaville

Looking for a more customized live edge wood piece? Feel free to contact me through Etsy or call me at 310.896.8124, and let's see what we can do for you. We specialize in live edge Black Walnut, English Walnut, Maple, Redwood, Claro Walnut, Ash, Elm, Mesquite as well as some exotics such as Bocote, Acacia & Monkeypod, Bubinga and Cocobolo and others from all over the country and the world.